The Pine Creek and Upper John Day Conservation Lands Programs offer limited public hunting access to the Conservation Areas, including Pine Creek Conservation Area, the mainstem Forrest Conservation Area in Prairie City, and the Oxbow, Middle Fork Forrest, and Dunstan Conservation areas along the upper Middle Fork John Day River. Because of the limited permits offered for each hunt, a lottery is held to randomly select hunters from among the applications. Hunters may submit applications starting on July 12th, and all applications must be received by August 6th. Results will be announced by August 13th, 2021. Hunters wishing to apply for an access permit MUST apply through this website, see Hunting Permits.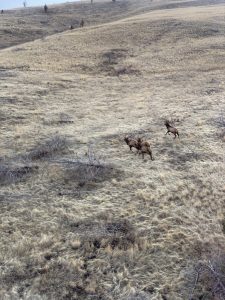 As we limit hunting to control numbers and maintain a quality hunt, we perform a draw of the applications submitted. The website will have you register an account, you will submit your ODFW tag information, contact information and select your hunts. After August 6th, we process the applications and randomly draw from the applications received for each hunt. All hunters will be contacted by email about the outcome of the draw. For specific hunting questions for Oxbow/Forrest/Dunstan, please contact Erik Rook, and for Pine Creek, contact Tim Bemrose. For 2021, there is no hunting access allowed on the Willamette Conservation Areas (Red Hills, Little Sweden, and Austin Hot Springs).
Currently, the Conservation Areas are open for Day-Use only. Overnight Camping at Pine Creek is NOT ALLOWED at this time, but check back as this evolving situation. We are hoping that all COVID-19 restrictions will be lifted by fall hunting season. If we do reopen for overnight use, successful hunters who get access permits will get first access to campground reservations. Tribal Member Hunting is managed by a separate website through the Reservation.
See Hunting and Fishing for more information.
Game Unit
Access Permits
Hunting Dates
PROPERTY
Hunt #
SEASON (HUNT #)
Allowed Harvest
 Public
OXBOW CONSERVATION AREA
General Bow
Refer to ODFW regulations for allowed elk harvest in Game Unit(s)
N/A
1
Aug. 28 – Sept. 26
147
Buck Deer Bow (147)
One buck with visable antler
Northside
1
Aug. 28 – Sept. 26
150
Buck Deer Bow (150)
One buck with visable antler
Desolation
1
Aug. 28 – Sept. 26
147
Buck Deer Rifle (147)
One buck with visable antler
Northside
1
Oct. 2 – Oct. 13
150
Buck Deer Rifle (150)
One buck with visable antler
Desolation
1
Oct. 2 – Oct. 13
647B
One Antlerless White-tailed Deer (647B)
One antlerless white tail deer
N/A
12
Oct. 16 – Oct. 24
General Elk Rifle- 2nd season
Refer to ODFW regulations for allowed deer and elk harvest in Game Unit(s)
Desolation
1
Nov. 6 – Nov. 14
247C
One Elk Rifle (247C)
One Elk
E. Northside
1
Nov. 6 – Nov. 14
250X
Bull Elk Rifle (250X)
One bull elk
Desolation
1
Oct. 16 – Oct. 24
247X
Bull Elk Rifle (247X)
One bull elk
Northside
1
Oct. 27 – Oct. 31
247
Antlerless Elk Rifle (247)
One antlerless elk
Northside
1
Nov. 20 – Nov. 28
FORREST CONSERVATION AREA MIDDLE FORK PARCEL
General Bow
Refer to ODFW regulations for allowed elk harvest in Game Unit(s)
N/A
1
Aug. 28 – Sept. 26
147
Buck Deer Bow (147)
One buck with visable antler
Northside
1
Aug. 28 – Sept. 26
147
Buck Deer Rifle (147)
One buck with visable antler
Northside
1
Oct. 2 – Oct. 13
647B
One Antlerless White-tailed Deer (647B)
One antlerless white tail deer
N/A
12
Oct. 16 – Oct. 24
247X
Bull Elk Rifle (247X )
One bull elk
Northside
1
Oct. 27 – Oct. 31
247C
One Elk Rifle (247C )
One Elk
E. Northside
1
Nov. 6 – Nov. 14
247
Antlerless Elk Rifle (247)
One antlerless elk
Northside
1
Nov. 20 – Nov. 28
DUNSTAN CONSERVATION AREA MIDDLE FORK PARCEL
General Bow
Refer to ODFW regulations for allowed elk harvest in Game Unit(s)
N/A
1
Aug. 28 – Sept. 26
147
Buck Deer Bow (147)
One buck with visable antler
Northside
1
Aug. 28 – Sept. 26
147
Buck Deer Rifle (147)
One buck with visable antler
Northside
1
Oct. 2 – Oct. 13
647B
One Antlerless White-tailed Deer (647B)
One antlerless white tail deer
N/A
12
Oct. 16 – Oct. 24
247X
Bull Elk Rifle (247X )
One bull elk
Northside
1
Oct. 27 – Oct. 31
247C
One Elk Rifle (247C )
One Elk
E. Northside
1
Nov. 6 – Nov. 14
247
Antlerless Elk Rifle (247)
One antlerless elk
Northside
1
Nov. 20 – Nov. 28
FORREST CONSERVATION AREA MAINSTEM PARCEL
General Bow
Refer to ODFW regulations for allowed elk harvest in Game Unit(s)
N/A
1
Aug. 28 – Sept. 26
147
Buck Deer Bow (147)
One buck with visable antler
Northside
1
Aug. 28 – Sept. 26
147
Buck Deer Rifle (147)
One buck with visable antler
Northside
1
Oct. 2 – Oct. 13
247C
One Elk Rifle (247C)
One Elk
Northside
1
Nov. 6 – Nov. 14
247
Antlerless Elk Rifle (247)
One antlerless elk
Northside
1
Nov. 20 – Nov. 28
Pine Creek Conservation Area
General Bow
One Elk
S. Fossil & E. Biggs
10
Aug. 28 – Sept. 26
144R
Columbia Plateau Bow
1 Buck with visible antler
Columbia Plateau (E. Biggs)
3
Aug. 28 – Sept. 26
145R
Fossil Unit Bow
1 Buck with visible antler
Fossil
7
Aug. 28 – Sept. 26
145
Fossil Unit No. 1
1 Buck with visible antler
S. Fossil
15
Oct. 2 – Oct. 13
143A
E Biggs
1 Buck with visible antler
E. Biggs
5
Oct. 2 – Oct. 13
145A
Fossil Unit No. 2
1 Buck with visible antler
Fossil
1
Nov. 20 – Nov. 28
245B1
S. Fossil Private No. 1
1 Bull Elk
S. Fossil
8
Oct. 27 – Oct. 31
245X
Fossil Unit No. 1
1 Bull Elk
Fossil
Oct. 27 – Oct. 31
245B2
S. Fossil Private No. 2
1 Elk
S. Fossil
10
Nov. 6 – Nov. 14
245Y
Fossil Unit No. 2
1 Bull Elk
Fossil
Nov. 6 – Nov. 14
643
Biggs Unit Private
1 Antlerless Deer
E. Biggs
2
Oct. 16 – Oct. 24
645
Fossil Unit
1 antlerless deer
Fossil
6
Oct. 16 – Oct. 24
245C
Fossil Unit
1 Antlerless Elk
Fossil
6
Nov. 20 – Nov. 28
245T
Fossil Unit Youth Hunt
1 Antlerless Elk
Fossil
6
Aug 1-Nov 30*
244
Columbia Plateau
1 Elk
Columbia Plateau (E. Biggs)
3
Oct. 27 – Nov.30*